February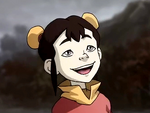 Ikki is the second child and youngest daughter of Tenzin and Pema, and the granddaughter of Avatar Aang and Katara. She has three siblings: an older sister named Jinora and two younger brothers named Meelo and Rohan. The entire family resides on Air Temple Island, near Republic City. Ikki is fun-loving, energetic, and extremely talkative.



---
Ad blocker interference detected!
Wikia is a free-to-use site that makes money from advertising. We have a modified experience for viewers using ad blockers

Wikia is not accessible if you've made further modifications. Remove the custom ad blocker rule(s) and the page will load as expected.