March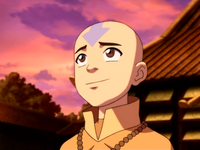 Aang was a male Air Nomad born in 12 BSC and the Avatar during the century-long conflict known as the Hundred Year War. His immediate predecessor was Avatar Roku, and his immediate successor is Avatar Korra. During his lifetime, Aang, like all Avatars, was the only person capable of using all four bending disciplines: airbending, waterbending, earthbending, and firebending. He was also one of a select few Avatars, and one of the first in many cycles to learn the ancient art of energybending, and the first Avatar known to have actively used the technique.



---
Ad blocker interference detected!
Wikia is a free-to-use site that makes money from advertising. We have a modified experience for viewers using ad blockers

Wikia is not accessible if you've made further modifications. Remove the custom ad blocker rule(s) and the page will load as expected.