April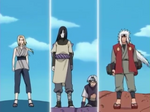 The Sannin is the collective name of three legendary ninja from Konohagakure, who are noted to be three of the greatest ninja of their time. While all three eventually left the village at some point for their own reasons, they all retained their renown from their title of Legendary Three Ninja (伝説の三忍, Densetsu no Sannin).



---
Ad blocker interference detected!
Wikia is a free-to-use site that makes money from advertising. We have a modified experience for viewers using ad blockers

Wikia is not accessible if you've made further modifications. Remove the custom ad blocker rule(s) and the page will load as expected.