February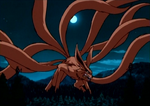 Kurama (九喇嘛, Kurama), more commonly known as the Nine-Tails (九尾, Kyūbi), is a tailed beast currently sealed within Naruto Uzumaki of Konohagakure. The fox was first sealed into Mito Uzumaki after the battle at the Valley of the End, then into Kushina Uzumaki after Mito's death.



---
Ad blocker interference detected!
Wikia is a free-to-use site that makes money from advertising. We have a modified experience for viewers using ad blockers

Wikia is not accessible if you've made further modifications. Remove the custom ad blocker rule(s) and the page will load as expected.