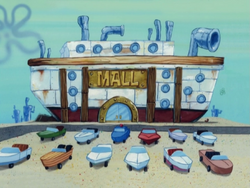 The Bikini Bottom Mall is a four story mall in the shape of a ship that was first seen in "Whale of a Birthday," and later seen in "To Love A Patty", "The Battle of Bikini Bottom", "Slimy Dancing", "To SquarePants or Not to SquarePants" and "Porous Pockets". A mall was built similar to this one (but Squidward destroyed it) captioned "Your New Mall", in Skill Crane. Among the stores and shops that have been revealed, some include:
Shoe Store - Sells shoes and boots for a bargain. There has also been a 90% off promotion.
Make-Up - Sells make-up items such as glitter gloss.
Clothes store - Sells clothes such as dresses and skirts.
Pets - a pet shop that sells pets such as sea-ponies and dogfish.
Purse store - Sells many different kinds of purses.
Clothes store - Another clothes store that sells dresses and skirts. One particular outfit costs $39.99.
Sunglasses - sells sunglasses. One particular pair costs $149.99.
Shoes - Another shoe store. A pair of red shoes costs $300.99.
Hat Fancy - A hat store.
Boat store - Sells boats.
Book store - Sells books.
Books 'R' Us - Another book store. Parody of Toys "R" Us.
Clothes I' Mark - sells clothes.
Buy Buy Buy - sells cars.
Lipp Lipp Gloss - sells lip gloss.
Sports Zone - a store that sells sports equipment
Music Store: looks like the interior of FYE.
Candy Store
Ad blocker interference detected!
Wikia is a free-to-use site that makes money from advertising. We have a modified experience for viewers using ad blockers

Wikia is not accessible if you've made further modifications. Remove the custom ad blocker rule(s) and the page will load as expected.